I've been invited many places, when I had little to contribute. One was to sing with the choirs that Annelinde Metzner leads...yes, I've been in two of them, which are still active under her direction.
I also have enjoyed her music about the Divine Feminine, as well as her prolific sweet poetry.
Now she is dealing with medical needs, and I was the first person to step up and make a contribution to help her. My donation might not be the biggest one she's received, but it is certainly full of heart-felt love.
For more information about the
Fund raising efforts for Linda's medical needs
just click the underlined link. This is also a great short biography of her work.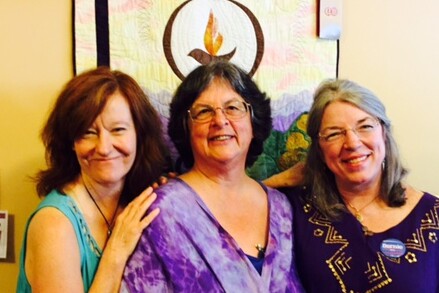 Linda is in the center of this photo, with Rebecca Williams on left, and Kim Hughes on right.
For a slice of her wonderful poety,
check this link to her blog
.
I love the idea that charity begins at home...why send a check to help people on the other side of the globe when we can reach out and help each other right here at home?