Noon update from WLOS news: 84% contained, 750 acres...6 homes damaged, one destroyed.
And when I went outside I didn't need to use a mask, cause downtown Black Mountain was clear. It even sprinkled a bit of rain around 5:00 pm.
---------------------------------------
On FaceBook 10 am April 2, 2015:
Forest Fire Update from Richard DuBose, Montreat Conference Center President:
Yesterday evening authorities executed a controlled burn above the Trestle Road on Lookout mountain as a precaution, resulting in the smoke visible on the Montreat side of the ridge this morning. Controlled burning is a standard technique of forest management used to reduce the potential hazard of wildfire. Authorities

are reporting that the fire is 95% contained. As further information becomes available, we will post it here.



Everyone at Montreat Conference Center joins me in gratitude for all of the men and women who have continued to work tirelessly to keep Montreat and other communities safe since Tuesday afternoon. Our prayers remain with those who have been directly affected. As further information becomes available, we will post it here.



Please note that Appalachian Trail, Rainbow Mountain Trail, and Lookout Trail will remain closed to the public until further notice.
=================================
UPDATE: April 2, 11 am... last night I could see a straight line of fire going up Rattlesnake Mountain, at an angle like 45 degrees, the lower part being closest to me. I was hoping it was a fire brake that the firefighters were burning so the actual brush fire couldn't come any closer. But the smoke was coming closer.
Photo on twitter by Same Pineda
This morning I remembered some coughing before going to sleep, when I took all the meds I had for my COPD, allergies and asthma. So this morning first thing, I put a face mask on and immediately could breathe better.. I quickly found I couldn't wear mask and drink my coffee, though. So it's been off again, on again. I put in a phone call to my doc to see if anyone was offering relief for us with breathing difficulties. Haven't heard anything back yet, (an hour so far).
But I plan to go into Black Mountain town later, wearing my mask. Hope it works.
========================================
Update: 1:00 pm April 1, 2015
The live news didn't have this...which was available on FaceBook.
Though 50% contained, there's a spur of the fire coming down the ridge toward Black Mountain. As of 1:10 pm "Firefighters told me just now that the fire visible from Charmaldee Acres is not the main fire. It is smaller and pretty much contained by bulldozers creating a line on Old Toll Road. The main fire is in McDowell county now," from a resident who posted on Facebook
Lookout Mountain has some of the fire on it, and fire fighters are working to keep it from coming into Montreat Valley (where Montreat the town and Black Mountain the town are located). No hiking allowed on Lookout mountain today!
Concerns of firefighters are still toward the McDowell County side.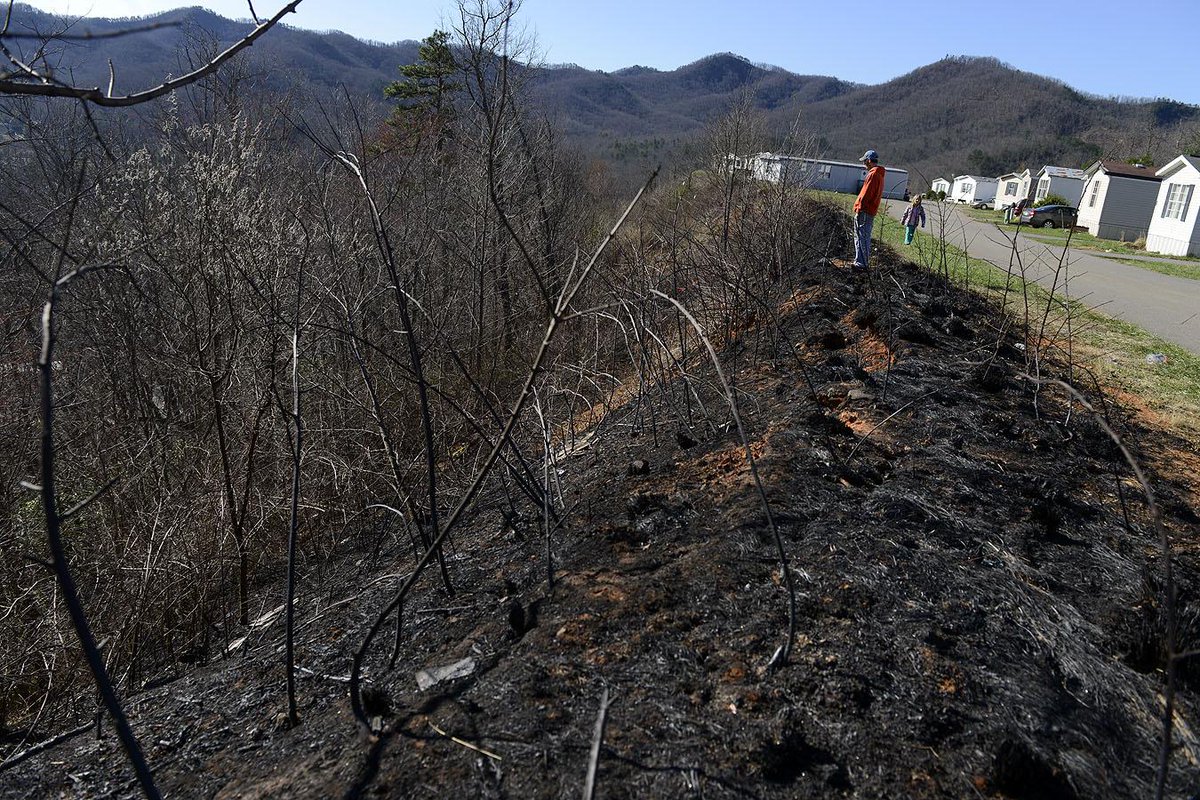 (@WilliamWoodyNC):
Photo from twitter of residents considering how firefighters saved their homes.
===============================
I drove home from Asheville about 3 pm, (March 31, 2015) and saw the billowing white smoke from up on the ridge. Once I got into town, I saw it was near Ridgecrest, and thought of how just a year or so ago there had been a bad fire up in that area where at least one home burned down completely. It looked like the same area, where little switchback roads make it hard for big fire trucks to manage.
So I turned on the news at 6, especially after having the Town of Black Mountain call me (and every other resident) with a Code Red, to ask us to stay away from the area of the fire at Exit 66, off I-40.
No problem.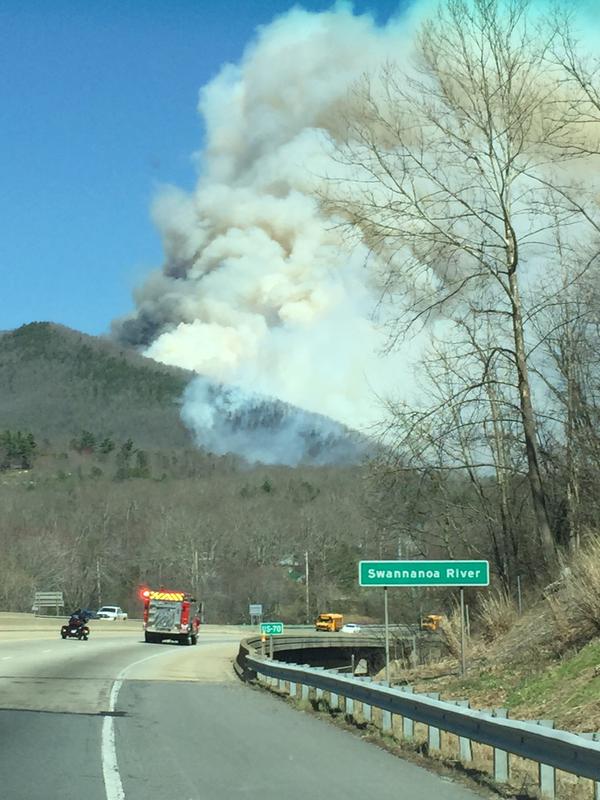 (SOURCE: @eslangston/Twitter)
As of 10:30 pm, a 500 acre brush fire, 6 homes reported damaged, one mobile home destroyed. Units from at least 6 fire teams on site. It was not contained at all by the end of the 10 o'clock news. These photos are from the 10 o'clock reports, but of course date back to earlier in the day.
Fairview truck
Sun went down around 7 and the winds were supposed to diminish, the humidity has at least doubled up to 48%
One of the reporters on scene...
[Computer screen photos from WLOS- ABC TV]
Lake Tomahawk is about half full after the dam construction - Photo by Cathy Little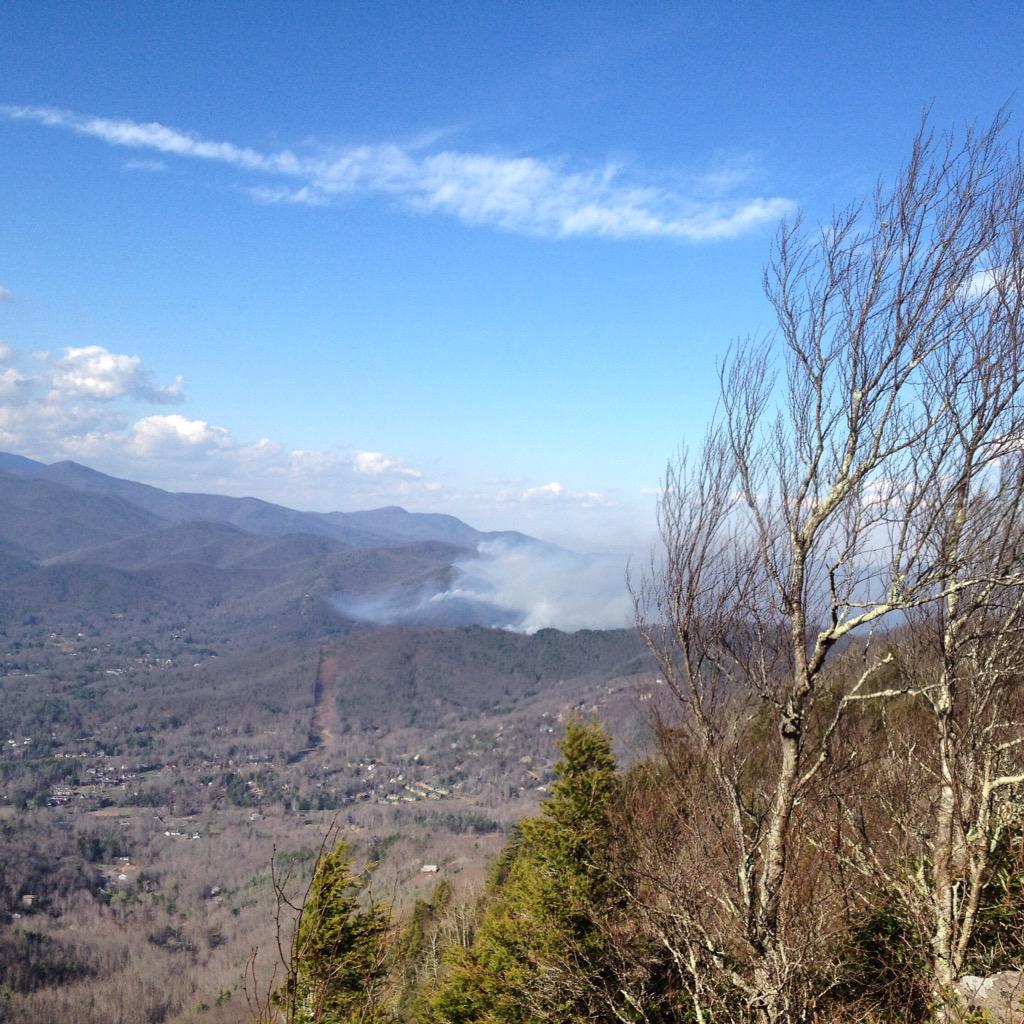 Photo by Doug Hay




Staging for night time fire fighting assignments - photo Black Mountain News




Messages have gone out on the FaceBook group "Friends of Black Mountain," and volunteers are feeding the firefighters, providing water bottles, Gatorade etc...a dozen pizzas. Others have opened their homes for the evacuated people along the roads affected by the fire.
I may live down in the town, and not downwind of the fire, but about a block up my hill my neighbor reports looking out over the town and seeing the line of fire still on the opposite ridge. We are all being affected by this fire.
The firefighters will allow it to burn in the wilderness areas, and put their efforts into protecting homes. I'm pretty sure this is part of Pisgah National Forest,